Mission Hill News
"This site is awesome. Thanks for keeping the spirit of MH alive!"
Bill Oakley, co-creator of Mission Hill, June 2003
November 18, 2007
Hello everyone, bit of an update today. First, I just realized that I never linked to the awesome Mission Hill Wikipedia article. It even has articles for each episode. Also, I've uploaded two new images to the gallery, which in this case are two new Andy French cartoons (as in, cartoons the fictional Andy French drew on the show). Enjoy!
May 6, 2007
It's been over a year since the last update. Sadly that's because there's really been no Mission Hill news to report. But I do finally have some stuff to update the site with, even if it's just because I've been lazy and/or absent-minded. I have some stuff I just found out I never posted on the site. The first thing is a really really cool piece of Mission Hill merchandise that was made exclusively for the crew of the show, just like all the other Mission Hill merchandise out there (except for the stuff in my store). The cool item? Mission Hill playing cards. So enjoy and there's more on the way!
May 2, 2006
Well I found a way to get the full episode of Episode 16: "CRAP GETS IN YOUR EYES" (Or, "Pretty in Pink") available for viewing. Just head to the video section. Remember, this is a full episode, so it clocks in at about 33 minutes. So this means no more having to click on separate pages to watch the different acts!
April 30, 2006
The last act of for Episode 16: "CRAP GETS IN YOUR EYES" (Or, "Pretty in Pink"), is now up in the video section. This act is divided into two parts due to video length limitations. Sorry for the inconvenience folks, but I am working on getting a downloadable version of the entire episode available, somewhere somehow.

April 20, 2006
Act 2 is now up for Episode 16: "CRAP GETS IN YOUR EYES" (Or, "Pretty in Pink"), in the video section.

April 17, 2006
Big news, the next animatic video, Act 1 of Episode 16: "CRAP GETS IN YOUR EYES" (Or, "Pretty in Pink"), is up in the video section! I had to split this one up due to time restrictions that they have placed at the video hosting place. Plus, it also will help because this one is not just a small portion like the animatic for Episode 15, but the ENTIRE EPISODE! And, this one is significantly longer than a typical episode. The entire episode animatic clocks in at about 33 minutes in total, while a usual sitcom these days is about 22 minutes. So you are getting the complete "director's cut" of the episode! And now I've used too many exclamation points! So go watch the video will ya?!
The rest of the acts will be online soon. Just stay tuned.
On another, slightly lesser note, I've added a page for the DVD set of Mission Hill. I figure most of you already own it, but if you need more information about it here it is.
March 20, 2006
Wow, that was fast. Turns out the link for the Episode 15 animatic already used up too much bandwidth. But don't worry, I've now uploaded the video so that everyone can watch it. Just visit the video section. And enjoy!!
March 18, 2006
Hello all. Big news. I've obtained and uploaded the animatic for the LOST EPISODE 15: "Freaky Weekend"! As a quick and temporary solution I've uploaded it here: http://s41.yousendit.com/d.aspx?id=1GOGPCH75QWGH0A4K3UG4LAF04
It will ONLY be available for a week from here. But don't worry if you're reading this later, I am working on a more permanent solution for it.
There is one other big thing. First off, I greatly apologize to anyone who has tried to send me a message through the button on the left. It seems that service is not working anymore. So I have changed it so it works now. Please if you sent me a message and you wanted a reply but never got it, send it to me again.
December 10, 2005
There were some technical issues with the site so I haven't been able to update until now. But the BIG news is that the Mission Hill DVD is available in stores and online as of November 29! Go buy it now! And buy a copy for your friends!
September 21, 2005
I'll make this quick. I'm very sad to report that the upcoming Mission Hill DVD set will NOT have the eagerly anticipated animatic of lost episode "Crap gets in your eyes". This is unfortunately due to legal issues regarding possible royalties to the actors involved.
The set is still worth buying though, for the other extras, and to have the show on your shelf.
August 26, 2005
I've been away for a bit so this bit of news slipped by. Mission Hill is now available to pre-order on Amazon.com and Amazon.ca (for the Canadian fans like myself). Or you could just go to the store and buy it. Either way, the official release date is November 29.
They've also released the box art for the show: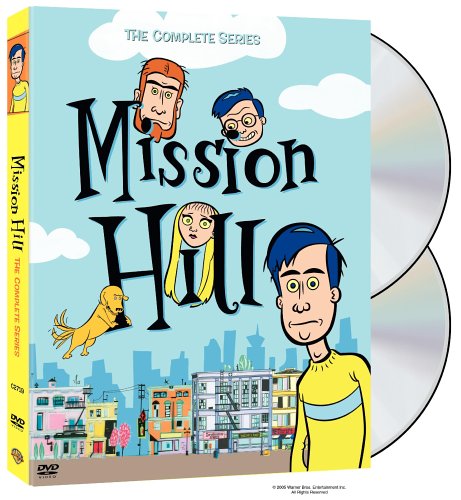 August 5, 2005
OFFICIAL MISSION HILL DVD RELEASE DATE!
The official press release and release date of the Mission Hill DVD set has been posted on TVShowsonDVD.com. It confirms it will be on two discs, and released on November 29, 2005. As for the extras, it says the set 'includes' (which means there may be more) there will be audio commentary on four episodes, and an "Extensive Interactive Map of Mission Hill." Since Bill Oakley confirmed with this site that at the very least there were plans for much more, there will likely be more than those two items (as cool as they are).

June 22, 2005
MISSION HILL DVD NEWS EVERYONE!
This is direct from Bill Oakley himself, the details for the Mission Hill DVD set. First off, I should let you know there's one disappointing bit. Like many TV shows on DVD sets, some of the music cues ("1 or 2 per episode" according to Bill) will be replaced with "similar sounding cues." The reason is a matter of cost, the licensing fees would simply be too high.
Now, the good news is there will be loads of extras.
| | |
| --- | --- |
| | Animatic for the entire lost episode "Crap gets in your eyes", including original reading of the script. This is essentially a B&W new episode! And there MIGHT be another act or two, or short scenes from the other lost episodes. |
| | Lost episode scripts will likely be there. |
| | Four audio commentaries featuring Bill Oakley & Josh Weinstein (creators), Wallace Langham, Nick Jameson and Scott Menville (actors for Andy, Gus and Kevin), and Lauren MacMullen (designer). |
| | 7-9 short extra video packages of early animation, aborted designs, color tests, promos, and stuff like that. |
The set will contain all 13 episodes and is due for release this fall, probably around November.
DVD sales are really the only method of fan support that gets the attention of studio executives. Family Guy did NOT return because fans wrote letters or signed petitions, it returned because the DVD sales were exceptional. So if you really want Mission Hill to come back, show your support in the loudest way by buying this set when it comes out.

May 23, 2005
Just a small update today, I added a link for guitar tabs for the song Italian Leather Sofa by Cake, which is the opening theme song for Mission Hill. Too bad I don't play guitar.

March 7, 2005
Another episode capsule is up, this time for "THE BIG-ASS VIACOM LAWSUIT" ( Or, "Andy vs. The Real World").

February 16, 2005
I've added a link to the Mission Hill and Clone High Refuge, a fansite for both Mission Hill and another very funny cartoon called Clone High. What's interesting is that the person behind the site is working on animating new episodes of both series in Flash. They're not ready just yet, but take a look.
I've also added the episode capsule for "Kevin's Problem" (aka: Porno for Pyro). Remember, for any of the episode capsules please feel free to contribute anything I might have missed. Just contact me with the 'Like My Site?' button on the left side of every page.
Oh, and make sure you look just below for the big news in case you haven't read it already.

January 15, 2005
The news we have all been waiting for is finally here. I've heard from a reliable source that Mission Hill is finally coming, to DVD! They are scheduled to be produced by June, and be in the stores in November. Extras are still being discussed, but expect things like commentaries and info about the lost episodes.
Thanks to everyone who helped out with the DVD campaign, I'm not sure if Warner Bros. decided on a DVD because of our letters, or due to other reasons, but our efforts certainly didn't hurt, and in the end, we are getting what we all wanted.

October 22, 2004
Some great news for those of you who miss Mission Hill. TBS will be showing it starting December 4, 2004 as part of it's 'Too Funny To Sleep' programming block. You can find more info about the block here and the scheduling here.
Also, I've uploaded the second episode capsule, for the episode "GREAT SEXPECTATIONS" (Or, "Andy Joins the PTA").

September 3, 2004
The first epsiode capsule is up, appropriately for the first episode, "THE DOUCHEBAG ASPECT" (Or, "Pilot Episode"). Read it to find out just about everything about the episode, including jokes you may have missed. It's very possible I missed something, so please if you have any additions contact me with the feedback link on the left side of every page. And stay tuned there's more on the way!

July 31, 2004
This is sort of Mission Hill-related, as it relates to Brian Posehn (the voice of Jim) doing a comic book, which is what Mission Hill was inspired by. Okay a bit of a stretch but whatever.
Brian Posehn of Mr. Show was also on the panel, and discussed his upcoming project, The Last Christmas. "It got started when me and a friend were playing videogames," Posehn deadpanned. "We were talking about Santa Claus, because we'd bother been stiffed that year, and we started thinking about what if Santa Claus was more like Mad Max, and had to fight and kill mutants. That's pretty much what happens – I don't want to give away too much of the story."

Posehn said that he's hoping to get Rick Rememder and Kieron Dwyer to help on art, and see it on shelves in early 2005.
This was taken from Newsarama.

July 12, 2004
I've FINALLY gotten around to adding a new image to the Multimedia section. It's a picture of Andy's unflattering caricature of a man from the episode "BROTHER'S BIG BONER" (Or, "Unemployment Part One"). So check out the new image here. And be sure to keep visiting because there will be much more very soon!

July 12, 2004
While not exactly Mission Hill related, Gamespot has an article about voice acting in games, which features Scott Menville, the voice of Kevin French. Check it out, it's an interesting read.
Read the full article here.

May 18, 2004
Mission Hill is returning to Adult Swim! According to the official site, starting Sunday, May 23 you can see Mission Hill at 1 am and 4 am every Sunday. These times are Eastern and Pacific, so check your local listings and be sure to tell your friends! The show had very high ratings the last time the episodes were played so Warner Bros. is paying attention! This is probably the simplest thing you can do to get those DVDs made!
In site news, there are a few minor updates. Did some modifications to the FAQ, removed a dead link from the Links page and added a new video clip in the Video section, from the episode "HOT FOR WEIRDIE" (Or, "Kevin Finds Love").
Legal notice: "Mission Hill" TM and copyright Warner Bros, its related entities and Castle Rock Entertainment. All rights reserved. Any reproduction, duplication or distribution of these materials in any form is expressly prohibited. Disclaimer: As a fan page, this web site and its content are not authorized by Warner Bros.